Fr. Francis Sales Library
Library Profile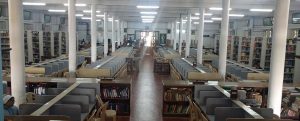 Fr. Francis Sales library of Sacred Heart College is named after its illustrious co-founder Rev. Fr. Francis Sales CMI (1904-1984). As a vital academic unit of the College, in alignment with the vision of higher education, the library also envisions involvement in research and extension.
Fr. Francis Sales Library, caters to the needs of the heartian students and staff by providing a range of library services. It offers a collection of more than 92000 books relevant to the academic community of the college. Moreover, it has a regular inflow of new additions. The extended working hours and quiet ambiance make it a favourite spot of both students and staff.
The general library of the college is a fully automated resource centre with a collection of over 92,000 plus books and subscribes to 90 plus journals and magazines. The library has a spacious reference section with a seating capacity of around 320, and has a collection of over 10,000 plus books for reference. The library purchases 14 different newspapers. The library is also equipped with advanced facilities such as RFID entry and CCTV monitoring OPAC facility.
Palackal Sophia Hall (Air Conditioned)
A conference hall of 30 seating capacity in the upper loft of the library. This is basically intended for research related discussions and presentations