Anti Ragging Cell
Ragging means the doing of any act which causes, or is likely to cause any physical, psychological or physiological harm of apprehension or shame or embarrassment to a student, and includes
(a) Teasing or abusing of playing Practical joke on, or causing hurt to any student.
(b) Asking any student to do any act, or perform any thing, which he/she would not, in the ordinary course, be willing to do or perform.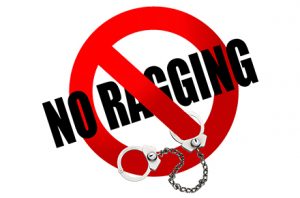 Ragging is different from other crimes because the motive is solely to get perverse pleasure. Ragging is also different from other crimes as it is actively promoted by certain sections of the society.
Observation and Directives of the Supreme Court
The Supreme Court of India has observed that enrolment in academic pursuits or a campus life should not immunize any adult citizen from the penal provisions of the laws of the land. According to the directions of the Supreme Court if any instance of ragging is brought to the notice of the administration or the faculty, it is legally binding on the institute to report the matter to the Local Police.
Anti-Ragging & Ethics Committee – Composition
Discipline Committee
Administrative Staff – 2
Local Representatives
Police
Local Leaders
PTA Representatives
Alumni Representatives
I DC Class Teachers
Student Representatives
Anti Ragging Cell 2019-20
Fr. Jose John (Coordinator)
Sibi K. I. (Convenor)
Abin Ambily (SDO)
C. K. Peter (Div. Councillor 57)
Elizabeth Idiculla (Div. Councillor 58)
I DC Class Teachers
Joseph K. J. (Superintendent)
Jude T. V. (Administrative Staff)
Noble Mathew (Advocate)
Paul Joe Kanatt (Former Student)
Paulraj (SWT Member), PTA Vice President
Rakhi Menon (Student Counsellor)
Station House Officer – Perumanur
Tomy Kanatt – Merchants' Association
Vykhari V. Purushan & Seetharaman P. – Students' Representative