Corona Virus Disease Alerts
Friday, April 24, 2020
26.04.2020
---
Comprehensive information on Corona Virus Disease 19 can be had from the following resources : ebook-1 (in English) here e-book-2 (in Malayalam).
13.04.2020
---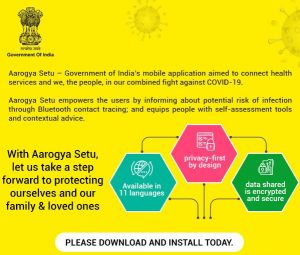 Heartian Community is advised to install Arogya Setu App, designed to connect users with health authorities in the nation's fight against Covid.
06.04.2020
---
In view of the evolving COVID-19 scenario, access to the college campus by the public and students is restricted until further notice.
Students will be allowed to enter the campus only for examination purpose.
Students should leave the campus immediately after the examination. Exceptional cases, shall be reported to the class teacher concerned.
Students are also not permitted to enter Lakeview Ground and other college premises.
Entry to the  library is also restricted. Library reading area will remain closed until further notice.
09.03.2020
---