Join NCC Naval Wing
Monday, October 18, 2021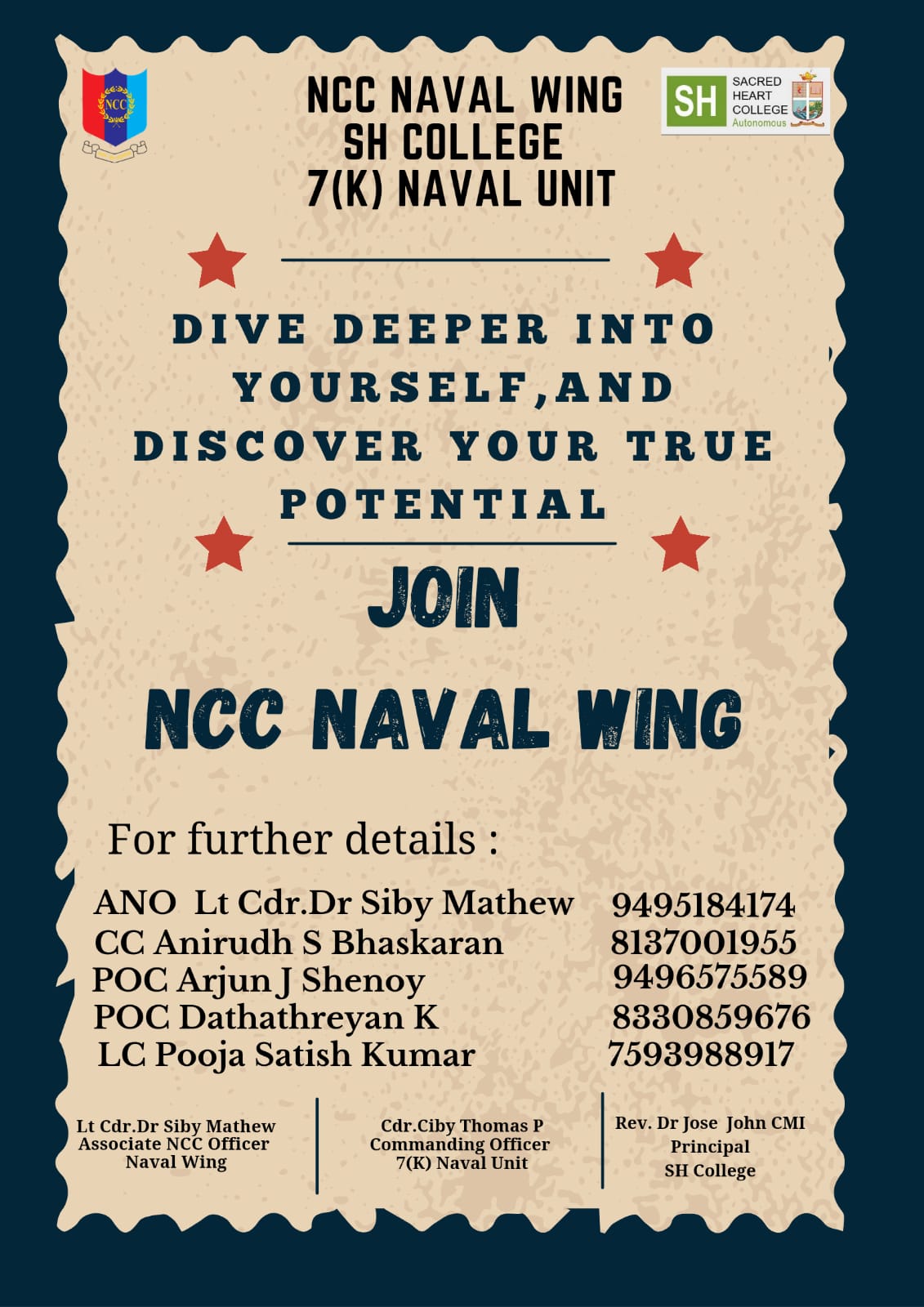 ⚓NCC Naval Wing⚓
7(K) Naval Unit
Sacred Heart College, Thevara
---
The National Cadet Corps Naval Wing of Sacred Heart College, Thevara is glad to announce that we are accepting applications from bright and determined students who would like to enroll in its ranks as Naval Wing Cadets.
What do we offer?
The NCC Naval Wing of Sacred Heart College, Thevara, being in close proximity to the Southern Naval Command has a plethora of activities which our cadets can indulge in;
➡️ Service Subjects
➡️ Drill
➡️ Sailing
➡️ Semaphore
➡️ Rigging
➡️ Boat Pulling
➡️ Swimming
➡️ Firing
➡️ Social Service Programmes
➡️ NCC Camps
➡️ NCC 'B' and 'C' Certifications ( Can apply to join the Armed Forces without appearing for the Written Exam and directly attending the Services Selection Board)
---
Why the NCC Naval Wing?
In its long and rich history, the Naval Wing cadets have proved themselves by being a part of the very best that the National Cadet Corps has to offer its cadets.
---
In the past 5 years, our Cadets have been a part of;
▫️Youth Exchange Programme (YEP)
Russia 🇷🇺
Kazhakstan 🇰🇿
---
▫️Overseas Deployment (OSD) to Mauritius 🇲🇺, Seychelles 🇸🇨 and Madagascar 🇲🇬
▫️Republic Day Camps
– 5 Years Consecutively
All India Best Cadet – Gold Medal (RDC 2021) 🥇 and Silver Medal ( RDC 2017) 🥈
– All India Guard Of Honour
– Republic Day Parade Rajpath Marching Contingent
– Prime Minister's Rally Contigent
---
▫️Nau Sainik Camps
– Kerala and Lakshadweep Directorate Best Cadet ( NSC 2019)
– Boat Pulling
– Semaphor
– Ship Modelling
– Drill
– Rigging
---
▫️All India Yachting Regatta (AIYR)
▫️Hiking and Trekking Camps
▫️Advance Leadership Camp (ALC)
▫️Special National Integration Camps (SNIC) and Ek Bharath Shresth Bharat (EBSB) and many more!
---
Do you think you have it in you? An ocean of opportunities awaits you!
---
---
Selections for the First Year Batch of 2021-22 NCC Naval Wing is scheduled to be conducted on 23/10/2021 – Saturday at 0800 hrs (08:00 AM) at Sacred Heart College (Autonomous), Thevara.
Please ensure your presence for the same and make arrangements in advance.
---