Faculty Positions Open
Wednesday, April 01, 2020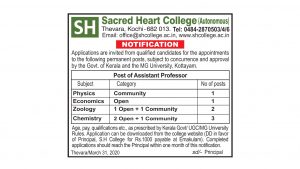 Additional instructions to applicants
In view of the evolving Covid-19 situation, provision for submitting application online is being made available.
Download submitted application and payment confirmation
If you face any difficulty regarding the on-line completion of the application form or on-line payment of application fee, please contact Fr. Nijo CMI at 8891398814.
Candidates shall submit the application online and keep a copy of the submitted application for your personal records.
When called for data verification, they should produce all required/supporting documents in original and an attested copy to be attached documents with the hard copy of the application.